Renovation: the process of improving a broken, damaged, or outdated structure or in this case A/c system. Renovations are typically either commercial or residential. Additionally, renovation can refer to making something new, or bringing something back to life and can apply in social contexts.
Does your home have multiple rooms with different temperatures, that wont stay cool?

did you know that up to 30° of your systems design capacity is because of duct loss.
** STOP wasting money on old inefficient duct work**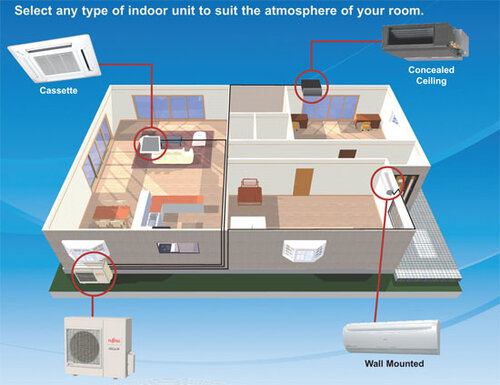 Multiple Design Options For Every Application.
Ductless mini-split systems provide an excellent way to cool a room addition, a basement remodel or even a small home. They combine the flexibility of room air conditioners with the efficiency and comfort of central HVAC systems, and they don't require ductwork, which makes remodeling quicker, easier and less intrusive.
How They Work
Mini-split systems — so named because small indoor units are located in each room or zone — operate like conventional heat pumps with outdoor condensing units and indoor fan coils. With mini-splits, refrigerant is piped directly from the outdoor unit through small-diameter insulated refrigerant lines. It goes to an individual evaporator unit and air handler mounted in the room that you're cooling or heating. A quiet fan blows the indoor air across the cooled or heated coil and then directly into the room. Each room or zone has its own thermostat.
Choosing The Right Company
here is where the expertise of Atom Ductless designs comes in. Proper system sizing and installation is absolutely critical to getting the touted benefits from a ductless system. Ductless will never work properly if the system is the wrong size, the wall penetration isn't sealed correctly, or the sensitive electronics are mishandled. With inverted compressor technology the installation is everything. Here are the steps that we take.
we use 100% Manufacture's specifications on your installation.

torque all fittings to manufacture specs.

pull vacuum on all systems to 500 microns.

equipment brackets for better security of the system.